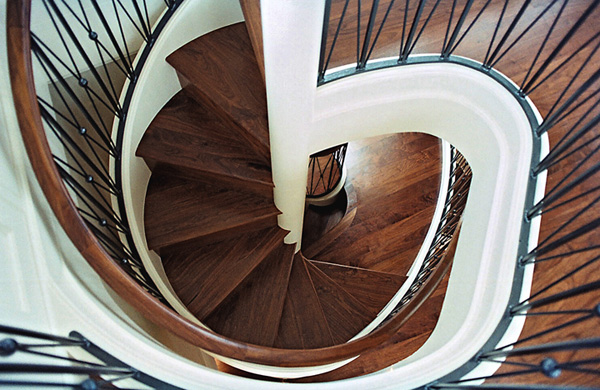 Staircases are widely considered in the millwork and architectural industries as fine pieces of furniture due to the uniqueness and details of these often-times works of art. While they are a necessity, stairs can be a significant anchor or a notable architectural centrepiece of a home. The craftsmen at Warren's Wood Works will collaborate with you to create a custom staircase that will enhance the style of your home's interior or exterior design. In addition to being able to build a simple, straight flight of stairs, we are experts at creating and constructing advanced designs like spiral staircases, staircases with multiple landings, and custom stairs with special architectural modifications and angles. We work with our clients to work within their design and budget and offer expert consultation on component parts or full "turn-key" installation.
From initial design to final installation, our versatility and attention to detail will create a staircase that will be functional and will make a design statement.
Please view our portfolio of custom staircase projects to learn about our capabilities and to gain inspiration for your current project.
Learn more about the vendors we partner with and their products that we offer:

Special Note
: Because we provide individualized service customized to each project coupled with the changing market prices of wood-related raw materials, we do not post our prices online. Please
contact Customer Service
or visit our Easton showroom for pricing information specific to your project.