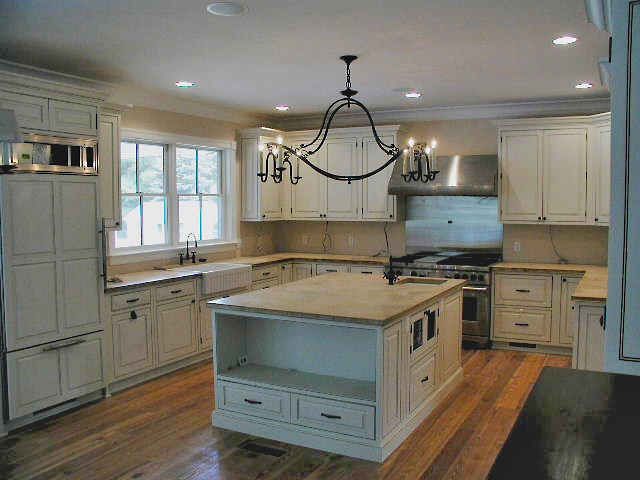 At Warren's Wood Works, we understand that every kitchen project is unique. That's why we offer a variety of cabinetry lines - everything from stock to custom!
Renovating? Building a new home? Our kitchen designers will tailor a cabinet design to meet your needs. Whether you want to keep your kitchen cabinets simple, or if you want our woodworking shop to design something from scratch, we're here to help.
Your Style, Your Vision, Our Experience
No matter if you're entertaining family and friends, or preparing everyday meals, the design of your kitchen matters.
Our kitchen designers are experienced with both simple and intricate designs and layouts. We will help you select everything your kitchen needs - cabinets, hardware, moldings, countertops, sinks, fixtures, and even your flooring!
Committed to staying on top of current industry trends, our design team attends trade seminars and are members of the National Kitchen and Bath Association. We work closely with architects, interior designers, and builders to create kitchens our customers enjoy for years to come.
When you choose Warren's Wood Works for your kitchen design, you will receive high-quality customer service, polished craftsmanship, and the best value.
Contact us today!View Kitchen Portfolio
---
Cabinetry Your Way:
Designing or remodeling a kitchen can seem overwhelming. Based on the scope of the project, we can recommend a cabinet line that best suits your goals. We will guide your selection and help you make the best choice for your project, budget, and schedule.
Cabinets range from stock, semi-custom, to fully customized cabinetry built and finished to complement your style and budget.
Stock Kitchen Cabinets: Want to keep things simple? Our stock kitchen cabinets are a great place to start. You will have a limited selection of finishes and door styles. Check out Schrock Cabinetry to get inspired.
Semi-Custom Kitchen Cabinets: With semi-custom cabinets, you can tweak the cabinet size to fit your needs, add design features, and have a few more finish and door options. Centra Cabinetry by Mouser has a beautiful selection.
Full Custom Kitchen Cabinets: If you want to customize the details of your kitchen cabinets and are looking for a meticulous design tailored to your home, full custom cabinets are the way to go. Our designers will work with you to hand select sizes, materials, and finishes. Dutch Made Cabinetry, Plain & Fancy Custom Cabinetry, and Mouser Premier Cabinetry offer a wide array of unique and intricate cabinet designs. Contact us today!
---
Custom Countertops:
As much as you want stunning countertops, you also want them to be functional.
Our kitchen designers will help you determine the right countertop material for your lifestyle. We will work one on one with you to coordinate your countertop with your cabinets and flooring. After all, you want your kitchen design to be seamless!
Custom Countertops: Corian, Granite, Quartz, Marble, Cambria, Silestone, Zodiaq, Caesarstone
Custom Wood Countertops: Mahogany, Cherry, Walnut, White Oak, Sapele, Wenge, Maple Contact us today!
---
Sinks & Faucets
While the kitchen sink and faucet aren't usually high-design kitchen elements, they are still important.
Our designers will show you different options based on your needs and style. Kitchen sinks come in a few different shapes and sizes. You can select a single or double bowl in a few different materials. When it comes to faucets, it's more about the style and finishes you like.
Thankfully, choosing a custom sink and faucet should be one of your easier decisions! Contact us today!
---
What to Expect
We pride ourselves at Warren's Wood Works on creating kitchens that are both beautiful and functional. Our job is to make the process as enjoyable and stress-free as possible! Most kitchen designs can be broken down into five simple steps.
We pride ourselves at Warren's Wood Works on creating kitchens that are both beautiful and functional. Our job is to make the process as enjoyable and stress-free as possible! Most kitchen designs can be broken down into five simple steps.
Step One: Get the Dimensions
If you are building a new house, we simply need a copy of your kitchen blueprint to get started! If you're remodeling and don't have a blueprint, we can do a site visit to obtain the needed measurements. We will also need to know what appliances you have or will be purchasing.
Step Two: Design Brainstorm
Before jumping into any project, we want to understand your vision. If you're remodeling, we want to know why your current kitchen design is not working. If you're building a new home, we want to get a picture of how you want the space to feel and function. We will work with you to understand your needs, wants, and ideas, as well as offer guidance on any decisions you're struggling with!
Step Three: Initial Design
As with any design project, your kitchen design is a process! We will provide an initial design and ask for your feedback and changes. Together, we will work through the design to tweak and improve upon our initial draft. We are here to bring your kitchen dreams to life.
Step Four: Review, Update, Order
Once we have your review and changes to the kitchen design, we will make our final edits. We will then create a project timeline and order any necessary materials from our vendors.
Step Five: Deliver & Install
You've almost got your dream kitchen! We offer delivery and installation services to make this final phase as simple as possible. Contact us today!
---
Warren's Wood Works is located in Easton Maryland and services the Eastern Shore, Annapolis, Crownsville, Edgewater and surrounding areas.
Need inspiration for your kitchen design? Check out our portfolio of custom kitchen projects!
Ready to chat with a designer? Contact us today!